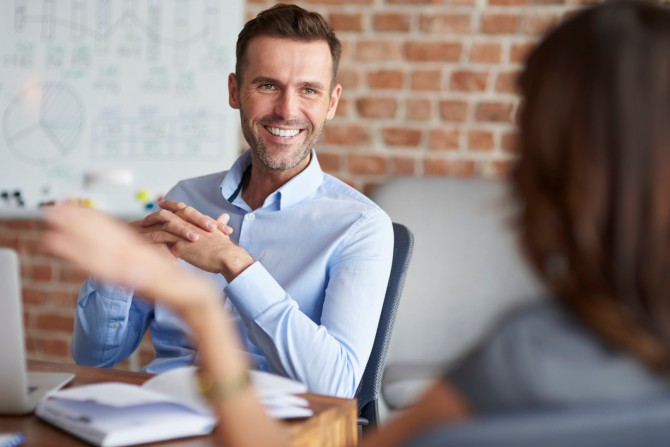 Immersion course
Improve your language skills in a professional environment. In consultation with the instructor, you decide on the topics to be covered. The following topics are very popular with our students:
introducing yourself and your company

attending meetings

holding a professional telephone conversation

writing a business letter or e-mail

dealing with a complaint

leading meetings

holding a sales conversation
Where and when?
The immersion course consists of 5 consecutive days with 7 hours of lessons a day. You can start on Monday or Wednesday. Immersion courses are taught at our locations in Brussels, Ghent, Liège or Antwerp.
The immersion course can also be organized online. In that case we propose to spread the training course over 2 weeks.
12 months' access to the e-learning platform and language webinars
Once you have completed the course, you will be given access to our e-learning platform. Every week we send you an e-mail with additional exercises to practise specific terminology, taking account of your language level. That way you can carry on learning at your own pace for another year.
You are also invited to take part in our monthly interactive webinars, during which an experienced instructor gives you practical tips on a business topic.
Testimonial
"Never thought I would speak French so fluently after a five-day language immersion class"
Geert Lambrechts followed an intensive, five-day language immersion class last summer. "I do not have a flair for languages so I was completely surprised by the result. After five days I spoke French fluently once again and on the way home I was even thinking in French", he says satisfied. Geert is a 'lean coach'; he helps other companies work more efficiently. "I work for different enterprises. Last year I received more assignments across the language border and it seemed like a good idea to invest in French language training."
No time for group lessons - "Since I know that I don't have a flair for languages, private lessons seemed like a sensible idea. I was not keen on group lessons, I didn't have time for that, so I asked one of my clients which language partner they could recommend. That's how I came into contact with Lerian."
A huge success - Geert looked over the different formulas on the website and chose an intensive, five-day language immersion class. "It was a huge success. I really wanted to brush up on French grammar rules and sentence structure. My vocabulary is good, but if I were to translate something literally, it would sound strange. My language instructor, Philippe, responded well to my expectations."
Major progress in a short time - "Philippe taught precisely what I needed and had a good method for building up knowledge. We even continued our conversations in French during our lunch break. Now that's what I call intensive training."
Geert was impressed with the result. "After five days I spoke French fluently once again. In the car on the way home, I noticed that I was thinking in French. I didn't expect to make so much progress because I know that I'm not good at languages."
Geert Lambrechts
Want us to call you back?
Leave your number and we will call you back.